TRIPS TO THE LOW COUNTRIES

These photos were not all of the same trip. One trip was to Bredene on the Belgian coast, another was to Noordwijk on the Netherlands coast (staying the first two nights in Bruges)
and the third to Valkenburg in SE Netherlands near the Belgian and German borders.
Bredene - led by Miss Cousins, Miss Mitchell, Mr Stuart Wilson (student and son of Mr J Wilson of DHS) and Mr Paul Bechelli,
student friend of Stuart. Valkenburg - led by Miss Cousins, Miss Mitchell, Mr & Mrs Taylor, Stuart & Paul.
Noordwijk - led by Miss Cousins, Mr & Mrs Taylor and Miss McKenzie from Irvine. We had some Irvine pupils to make up the numbers.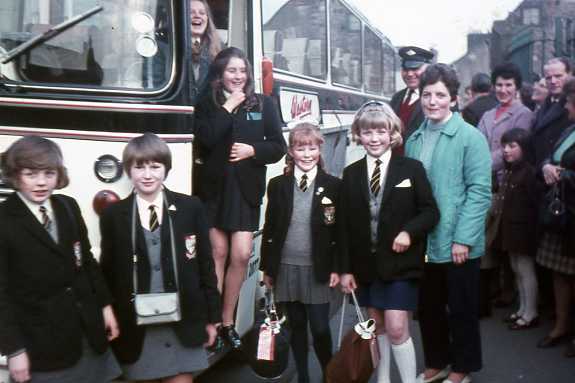 231
Leaving Dalry

Outside the school gate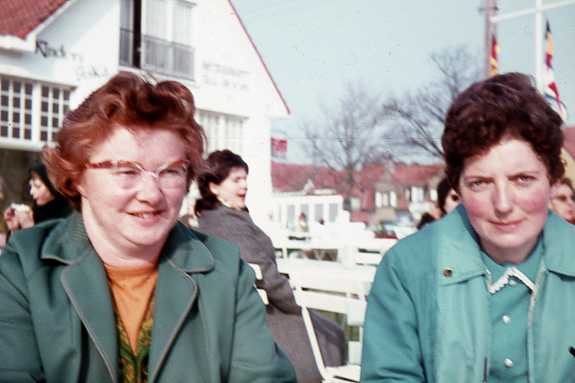 232
Miss Cousins & Miss Mitchell

Waiting to be served with waffles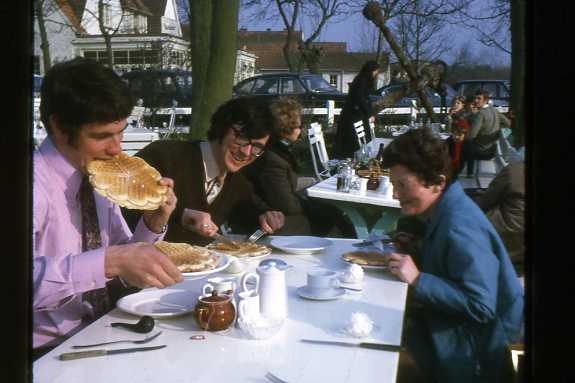 233
Stuart taking my waffle

Mr Wilson taking my waffle while I was busy with the camera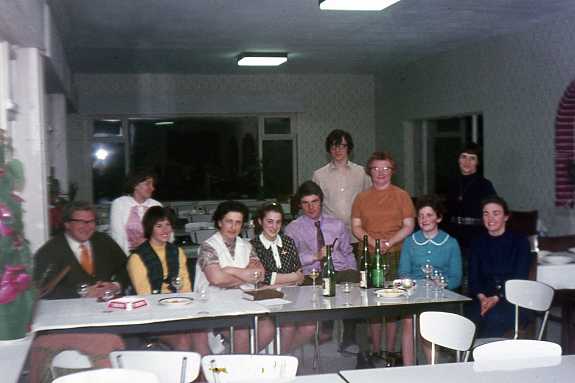 234
Hotel in Bredene

Miss Mitchell (seated), Miss Cousins, Paul and Stuart (seated) with the family who owned the hotel in Bredene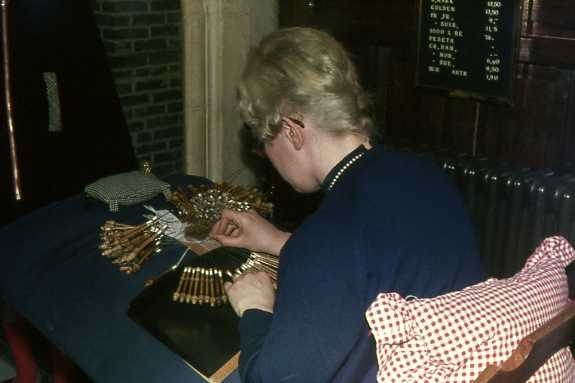 235
A Belgian Lace-maker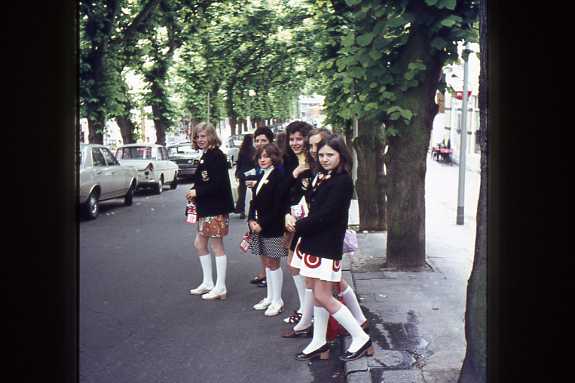 236
Representing Dalry Primary School in Belgium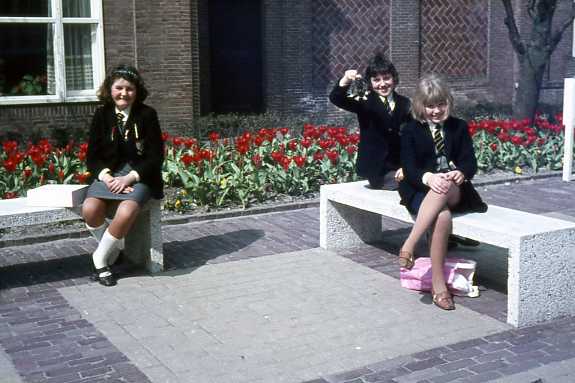 237
Enjoying the sunshine in Belgium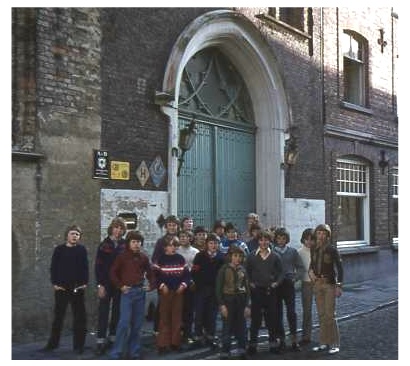 238
Hotel in Bruges: our pupils renamed it "Colditz". The exterior was forbidding and the manager was very strict.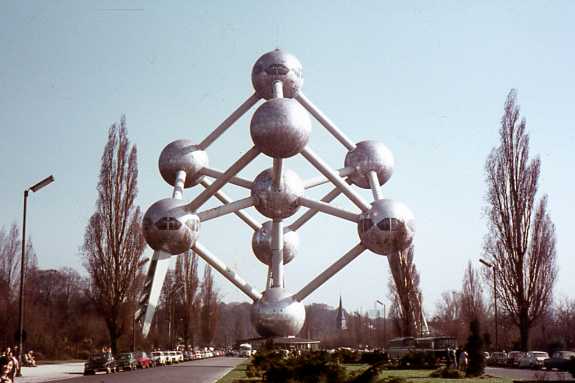 239
The Atomium, Brussels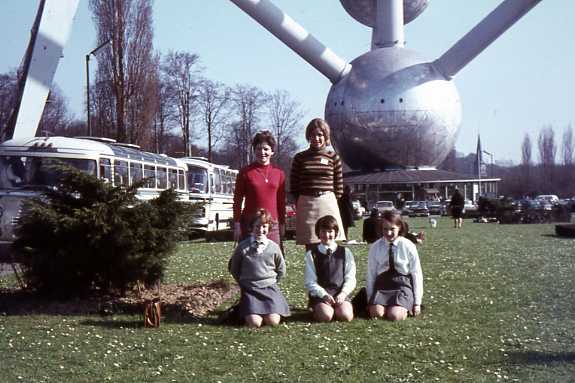 240
Miss Mitchell and some girls in front of the Atomium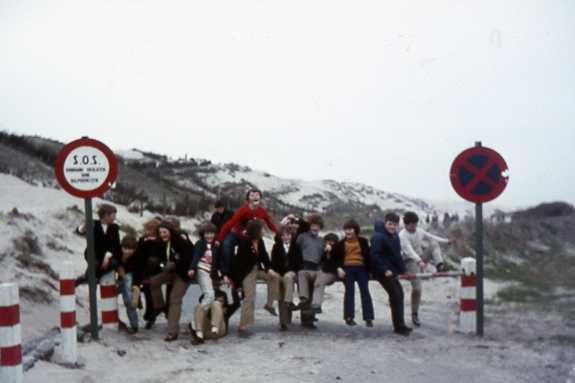 241
A walk in the sand dunes at Bredene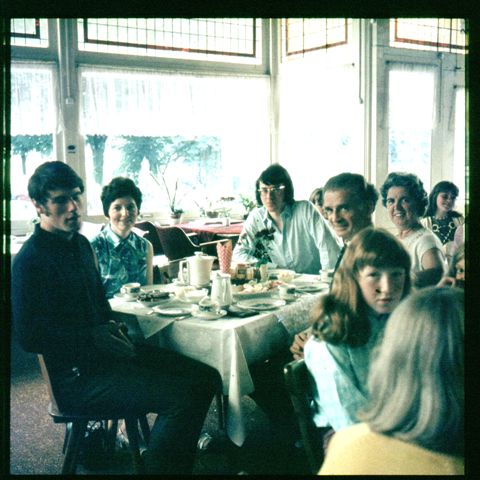 242
Mealtime, Valkenburg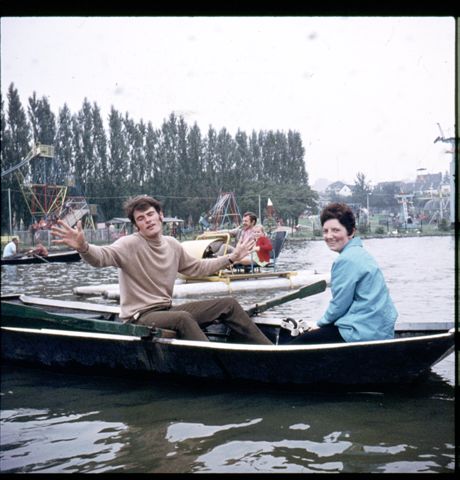 243
A visit to a park with boating lake, Valkenburg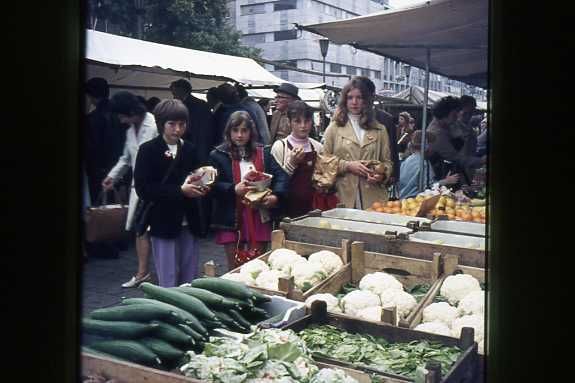 244
Arnhem market: the girls bought lovely strawberries but did not eat them all hoping to have some the next day but in the morning they were all soft and spoilt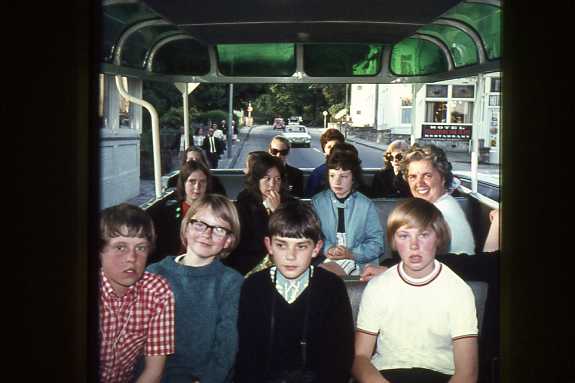 245
Through Valkenburg in an open bus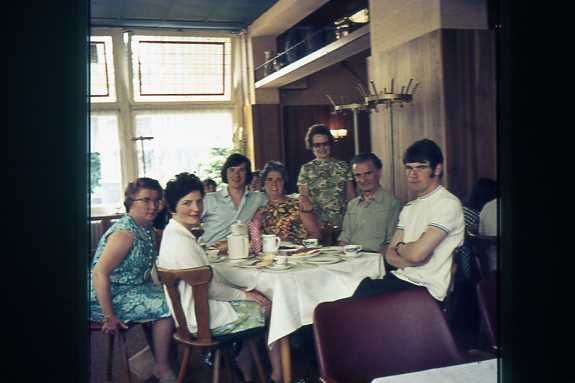 246
Staff Meeting: a meal or a cup of tea; the lady standing is one of the hotel staff



247
Hotel in Noordwijk on Dutch coast.During that week there was a terrible storm such as they had not had for 25 years. The windows let in water and some rooms were flooded.
Mr & Mrs Taylor and some pupils had to move to other rooms. The storm was so severe that we saw people holding on to lamp posts in the street while our bus was held up at lights.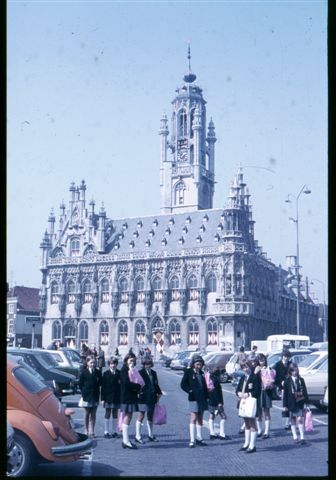 248
MiddelBurg Town Hall. The clock had figures which moved around on the hour.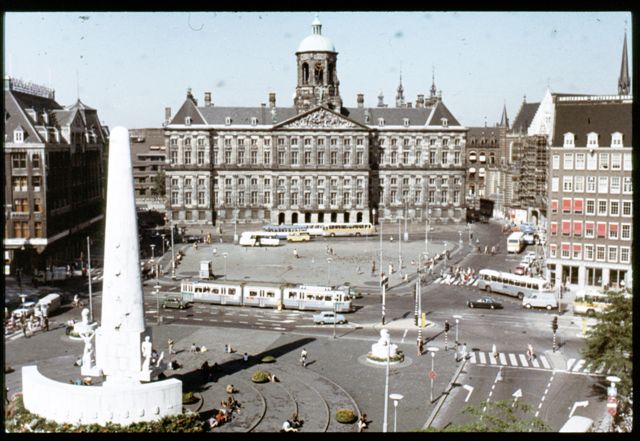 249
Amsterdam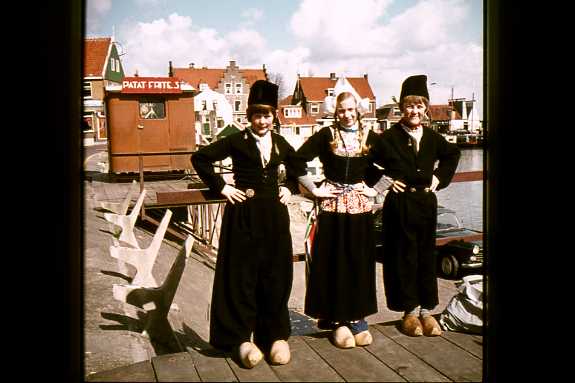 250
Gone all Dutch

In Volendam, exchanging school uniform for Dutch costume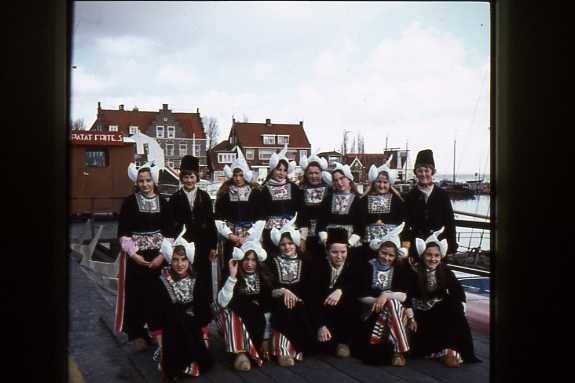 251
All dressed up a locals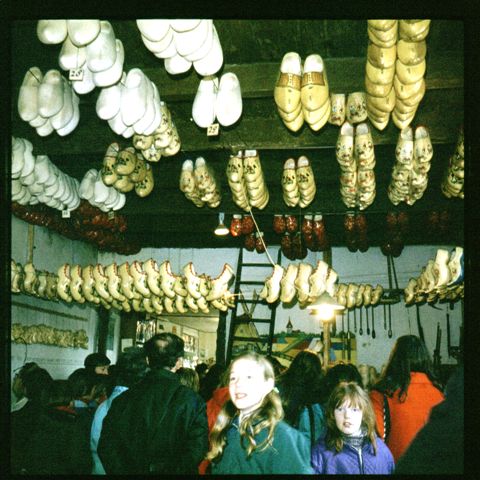 252
Clog Factory

Needless to say, some clogs were purchased.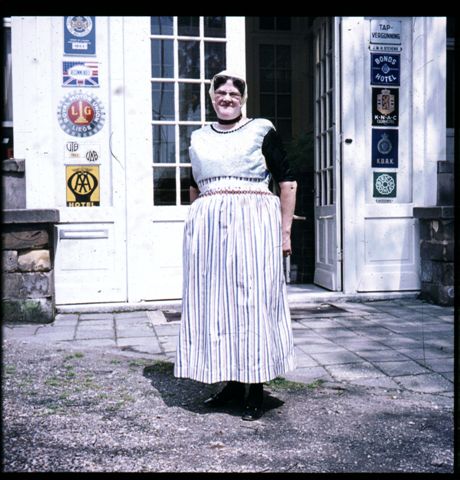 253
Dutch costume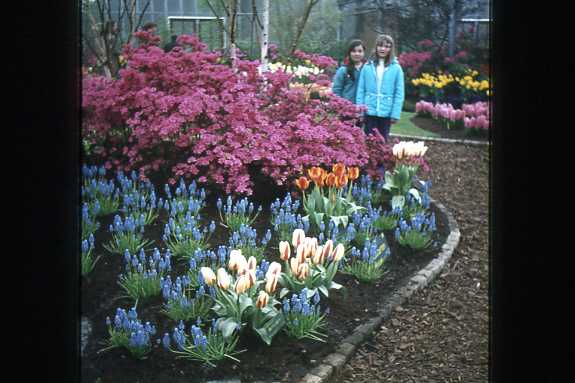 254
If the tulips in the fields were finished, this park was worth a visit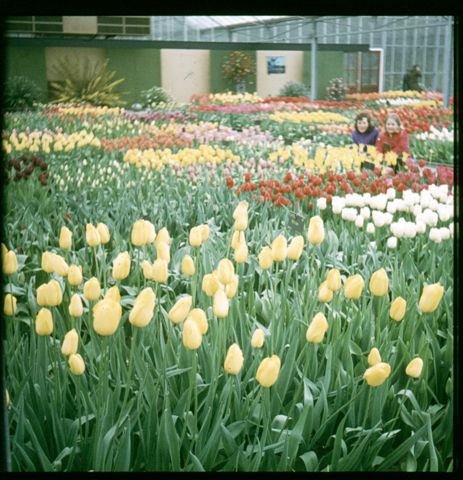 255
Another view of the park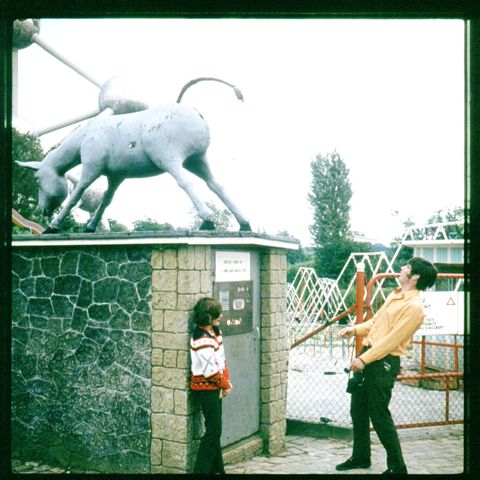 256
A piece of chocolate. Typical Belgian humour: put a coin in the slot and catch a piece of chocolate.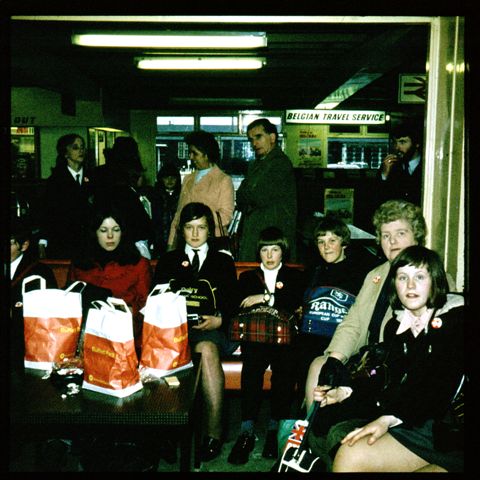 257
This was a delay on the journey from Noordwijk. Note all the paper bags of goodies. On the right, Miss MacKenzie and in background Mr & Mrs Taylor.


Photos: Elma Cousins