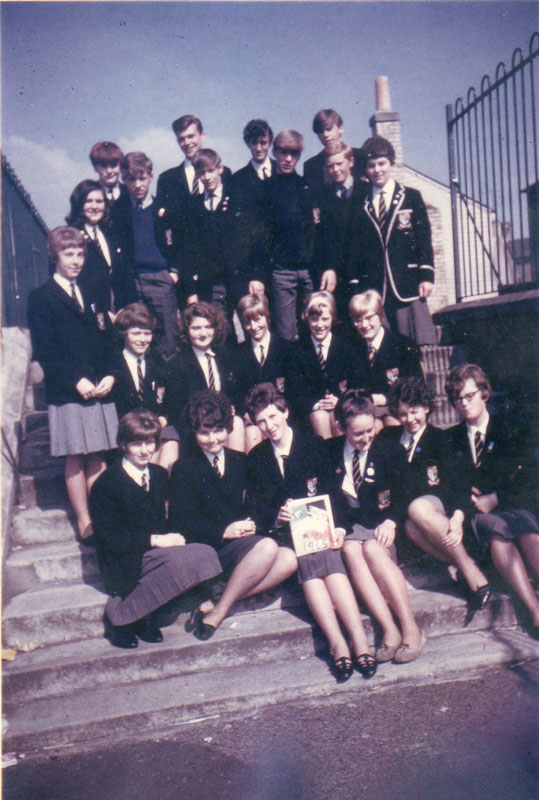 497

1965 - Class IV

Back Row: Douglas Martin, Geoffrey Sambells, Jim Miller, Gordon Cairns

Third Row: Elna McKelvie, Andrew Hewitson, Charles Thomson, Sam Cathcart, Alister Campbell, Marlyn Hamilton

Second Row: Evelyn Lang, Betty Miller, Hazel Martin, Isabel Porter, Margaret Brash, Lorna Phillips

Front Row: Elizabeth Morrison, Jean Swanson, Lesley Hudson, Jessie Dickson, Carol Smith, Elma Dickson

Photo taken by Miss McEachran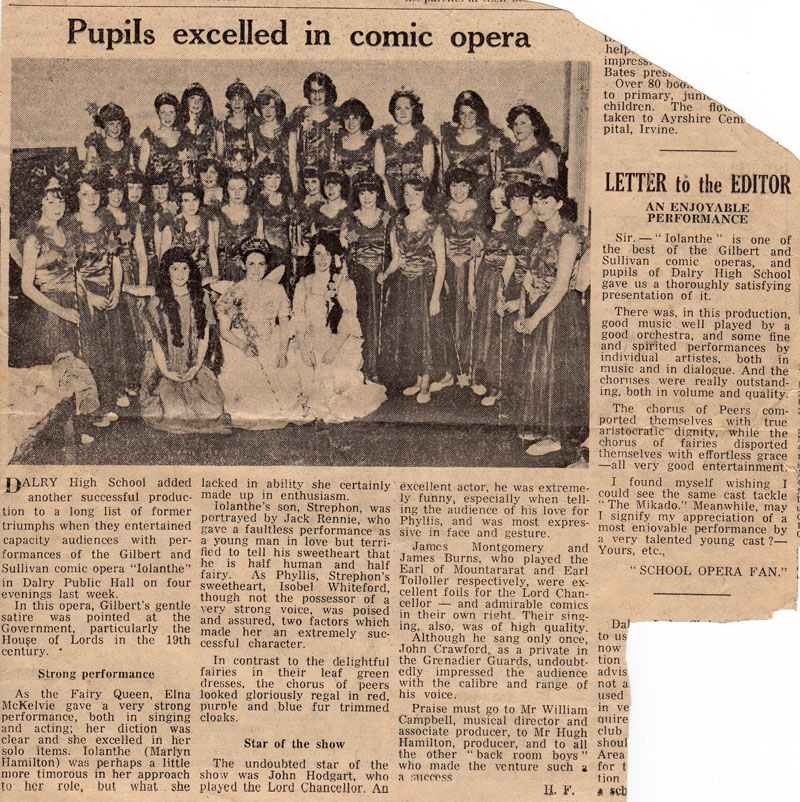 498

1966 - "IOLANTHE"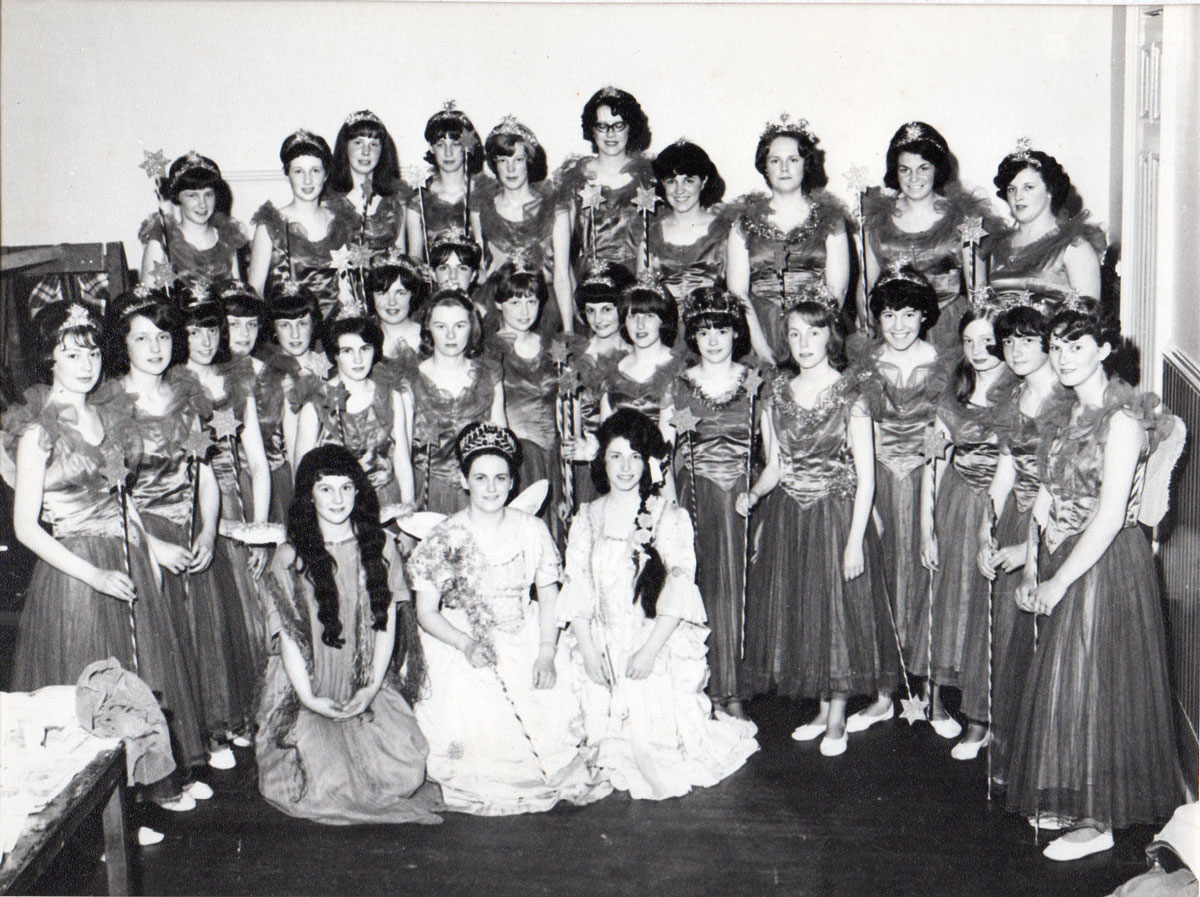 499

1966 - "IOLANTHE"
Back Row: Alice Barclay, Lesley Hudson, Carol Hudson, Moira Syme, Margaret Brash, Marion Dillon, Elizabeth Ross, Elma Dickson, Elma Loudon, Nancy Ferguson
Middle Row: Valerie Conn, Janet Fulton, Sandra Hodgart, Betty Miller, Ruth Stewart, Jean McMillan, Yvonne Gallaher, Jean Howie (front), Anne King (rear), Mhairi Wilson,
Janet McChesney, Linda McTaggart, Marjorie Fyfe, Evelyn Lang, Anne Menzies, Rosalyn Gilbert, Jean Barclay, Agnes McDowall
Front Row: Marlyn Hamilton, Elna McKelvie, Isobel Whiteford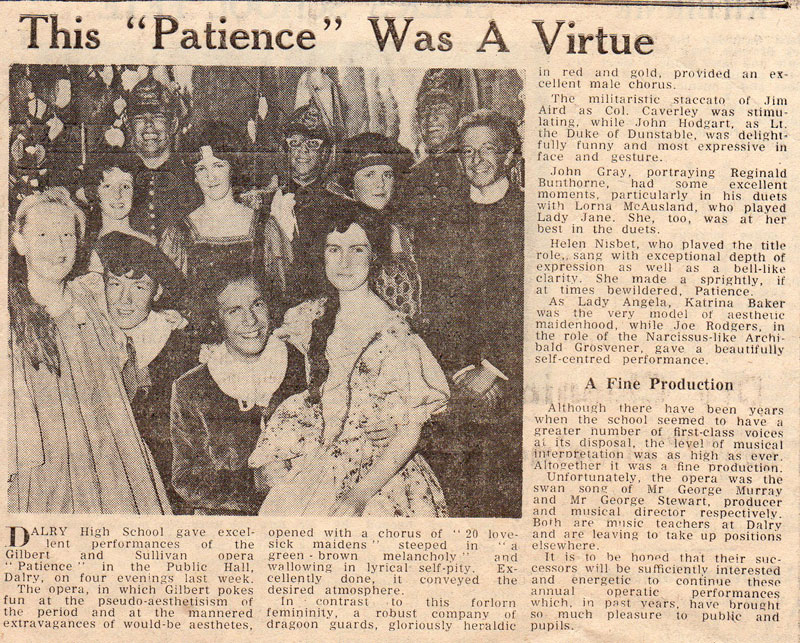 500

1964 - "PATIENCE"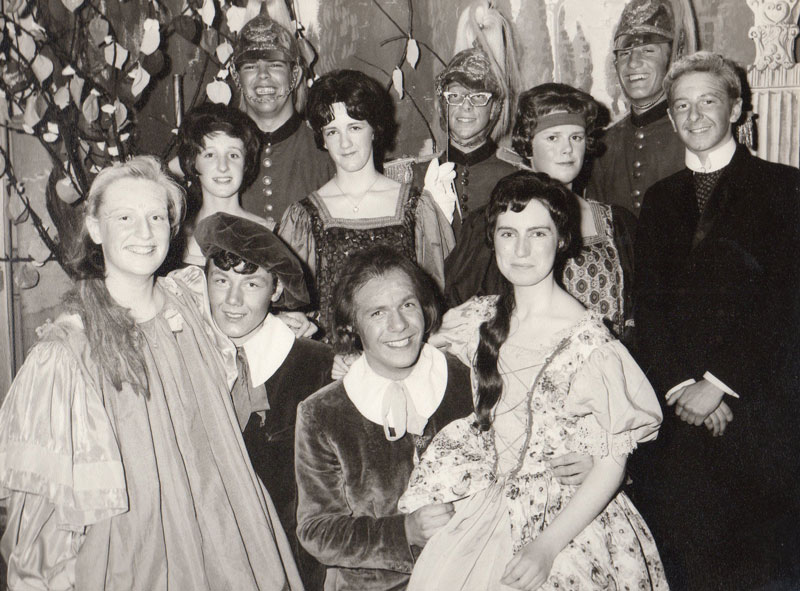 501
1964 - "PATIENCE"
Back Row: Jim Aird, John Hodgart, Jim Montgomery
Middle Row: Katrina Baker, Eileen McDonald, Elma Dickson, Jim Burns
Front Row: Lorna McAusland, Joe Rogers, John Gray, Helen Nisbet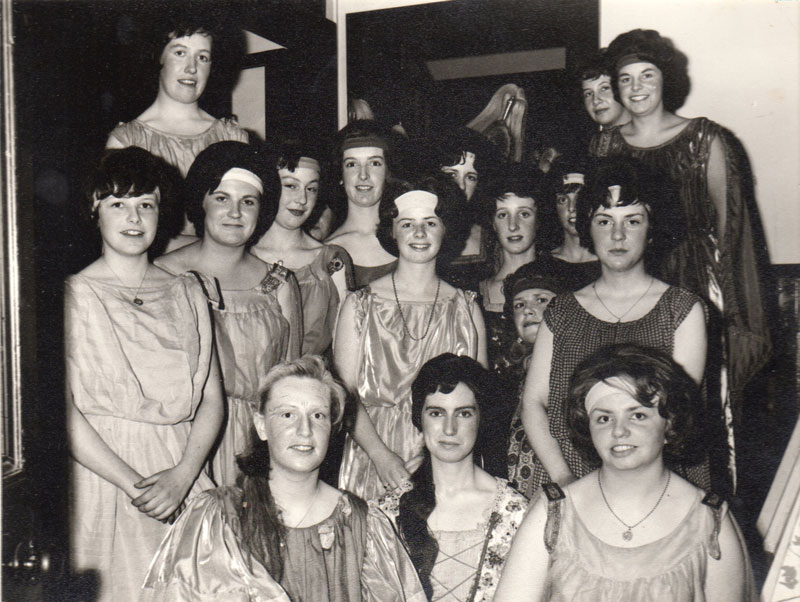 502
1964 - "PATIENCE"
Back Row: Mary Montgomery, ? , Elma Loudon
Middle Row: ? , Elna McKelvie, Valerie Conn, Irene Gracie, Eleanor Reid, Eileen McDonald, Katrina Baker, Elma Dickson, Sandra Hodgart, Heather Fraser
Front Row: Lorna McAusland, Helen Nisbet, Ilene Crawford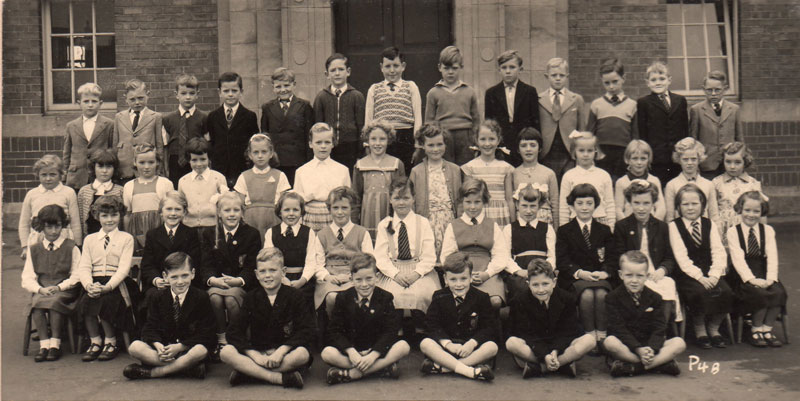 503
1959 - Primary IVB

Back Row: Jim Kirkwood, Bill Daly, Tommy Downes, Billy McInnes, Danny McInnes, Johnny Brennan, Jim Morrison, Jackie Street, Norman Wilson, David Reid, Sandy Nelson, Frank Chesney, Jim Morrison

Third Row: Evelyn Brownlie, Janette McLean, Helen Wait, Maureen Blackwood, Anne Gallacher, Betty Miller, Elizabeth Hope, Jean Swanson, Lesley Hudson, Agnes McMillan, Maureen Heyburn, Elizabeth Wallace, Helen Wotherspoon, Morag Morrison

Second Row: Elizabeth Burns, Janice Woodside, Jean Blue, Lorna Phillips, Mary Wallace, Elma Dickson, Yvonne Gallacher, Sandra Davidson, Elizabeth Fearns, Joan Lindsay, Elizabeth Miller, Jennifer Boyce, --?--

Front Row: Kirk Ramsay, David Weir, John McDonald, Douglas Martin, Ian Boyce, William Cairns

504
1963 - SECONDARY IA

Back Row: Andrew Hewitson, Douglas Martin, Jim Miller, John McDonald, Brian Oldroyd, Kirk Ramsay, David Reid, Ian Boyce, Sam Cathcart, Charles Thomson, Jim Dillon, Colin Gordon, Alister Campbell

Middle Row: Anne Gallacher, Elna McKelvie, Norman Wilson, Sandra Davidson, Lorna Phillips, Marlyn Hamilton, Isobel Porter, Yvonne Gallacher, Geoffrey Sambells, Lesley Hudson, Gordon Cairns, Jessie Dickson

Front Row: Carol Smith, Anne Wallace, Margaret Brash, Elma Dickson, Betty Miller, John Wilson (Latin), Jean Swanson, Doreen Burns, Jean Henderson, Evelyn Lang, Elizabeth Morrison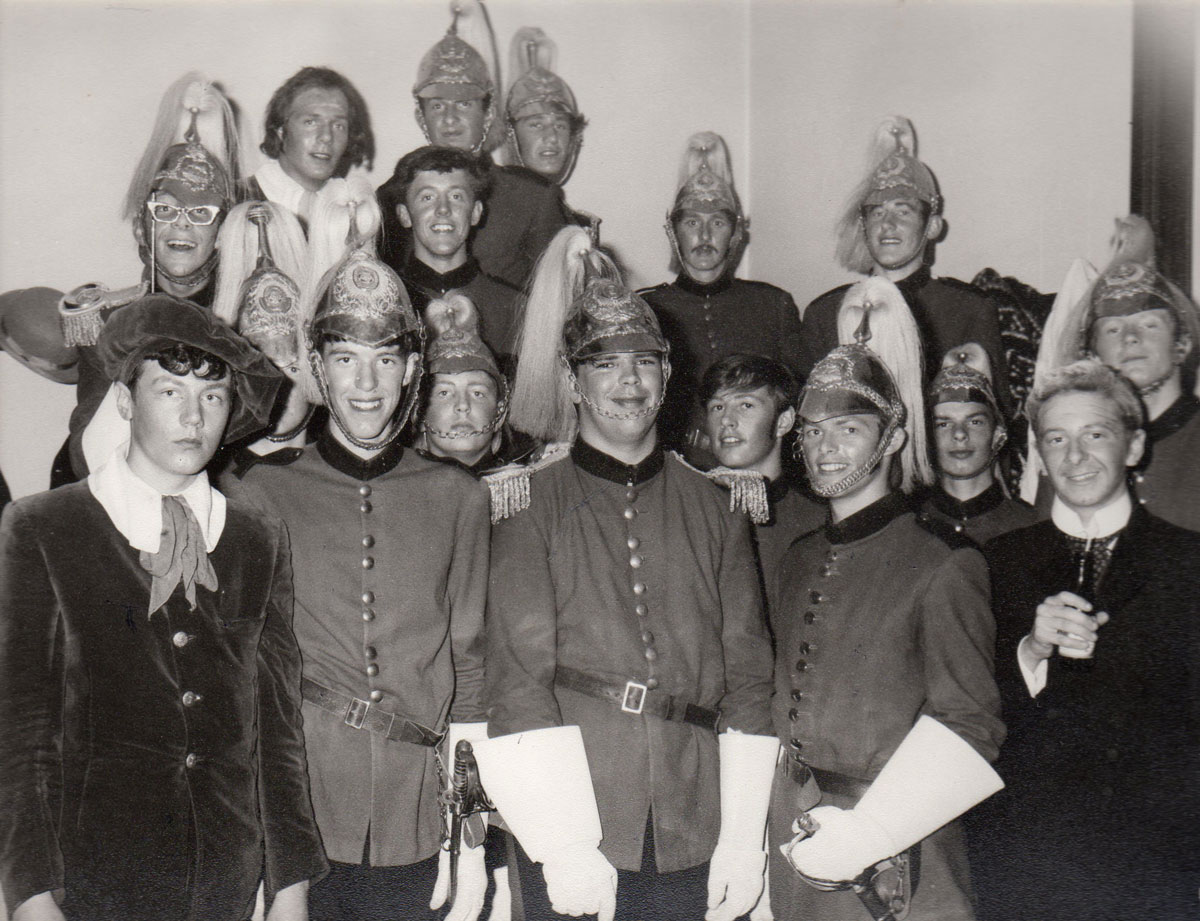 508
1964 - "PATIENCE"

Male Chorus and Principals
Back Row: John Gray, Bobby Fowler, Jim Montgomery
Third Row: John Hodgart, Niven Rose, James McConnell, Murray Rose
Second Row: ? , John Crawford, Ian Glover, Andrew McDonald, Tome Clarkson
Front Row: Joe Rogers, Sandy Innes, Jim Aird, Joe McMurdo, Jim Burns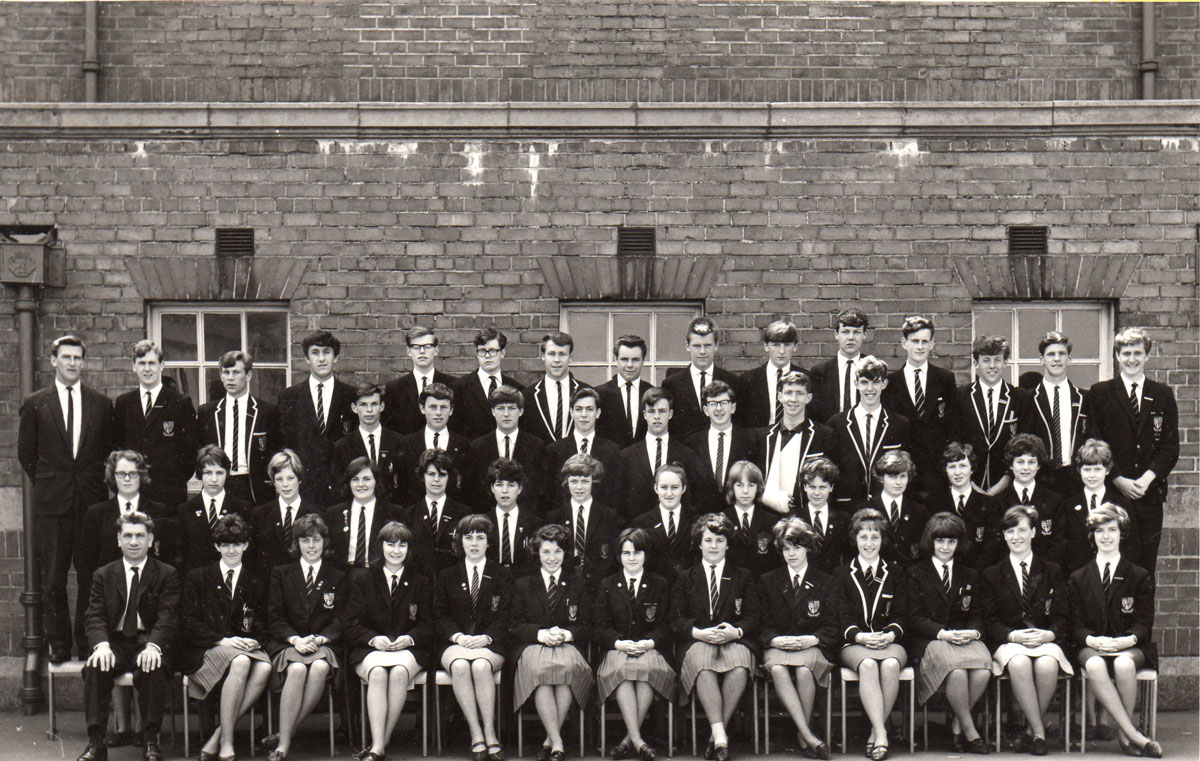 506
1965 - SENIOR CHOIR
Back Row: Jack Rennie, Jim Morton, Callum Lowe, Jim Montgomery, Jim Boyd, Duncan Watt, Neil McTaggart, Robert Wallace, Roy Prasher, Dennis Ruxton, Joe Rodgers, Jack Carey

Third Row: Andrew McDonald, Bert Gilmour, Jim Cuthbertson, Tommy Ward, Tom Mitchell, Jim Burns, John Hodgart, Sandy Innes, Niven Rose, Jim Wilson, Jim McConnell

Second Row: Elma Dickson, Kate Johnston, Margaret Brash, Elna McKelvie, Jean Hood, Elizabeth Ross, Betty Miller, Jessie Dickson, Evelyn Lang, Carol Smith, Elizabeth Morrison, Lesley Hudson, Marlyn Hamilton, Mhairi Wilson

Front Row: Bill Campbell, Eileen McDonald, Sandra Hodgart, E Scott, Heather Frazer, I Whitwford, J McMillan, Nancy Ferguson, Marjorie Fyfe, Anne McCormick, Janet McChesney, Lorna McAusland, I Gracie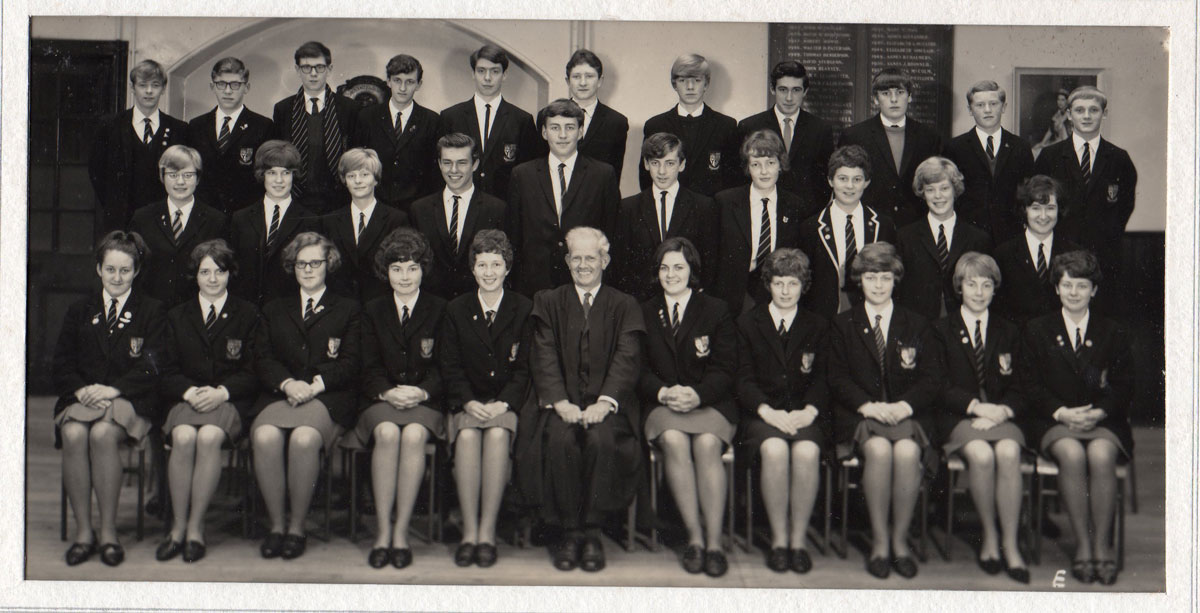 505
1966 - SECONDARY V
Back Row: Charles Thomson, Andrew Hewitson, Donald Carey, Jim Miller, Tommy Ward (Repeating), Ian Boyce, Sam Cathcart, Campbell Logan, Douglas Martin, Alister Campbell, Colin Gordon

Middle Row: Lorna Phillips, Elizabeth Miller, Isabel Porter, Geoffrey Sambells, John Crawford (Repeating), Kirk Ramsay, Catherine Craig, Marlyn Hamilton, Margarert Brash, Elizabeth Lawson

Front Row: Jessie Dickson, Jean Barclay, Elma Dickson, Jean Swanson, Lesley Hudson, Thomas Hamilton (History), Elna McKelvie, Elizabeth Morrison, Betty Miller, Evelyn Lang, Carol Smith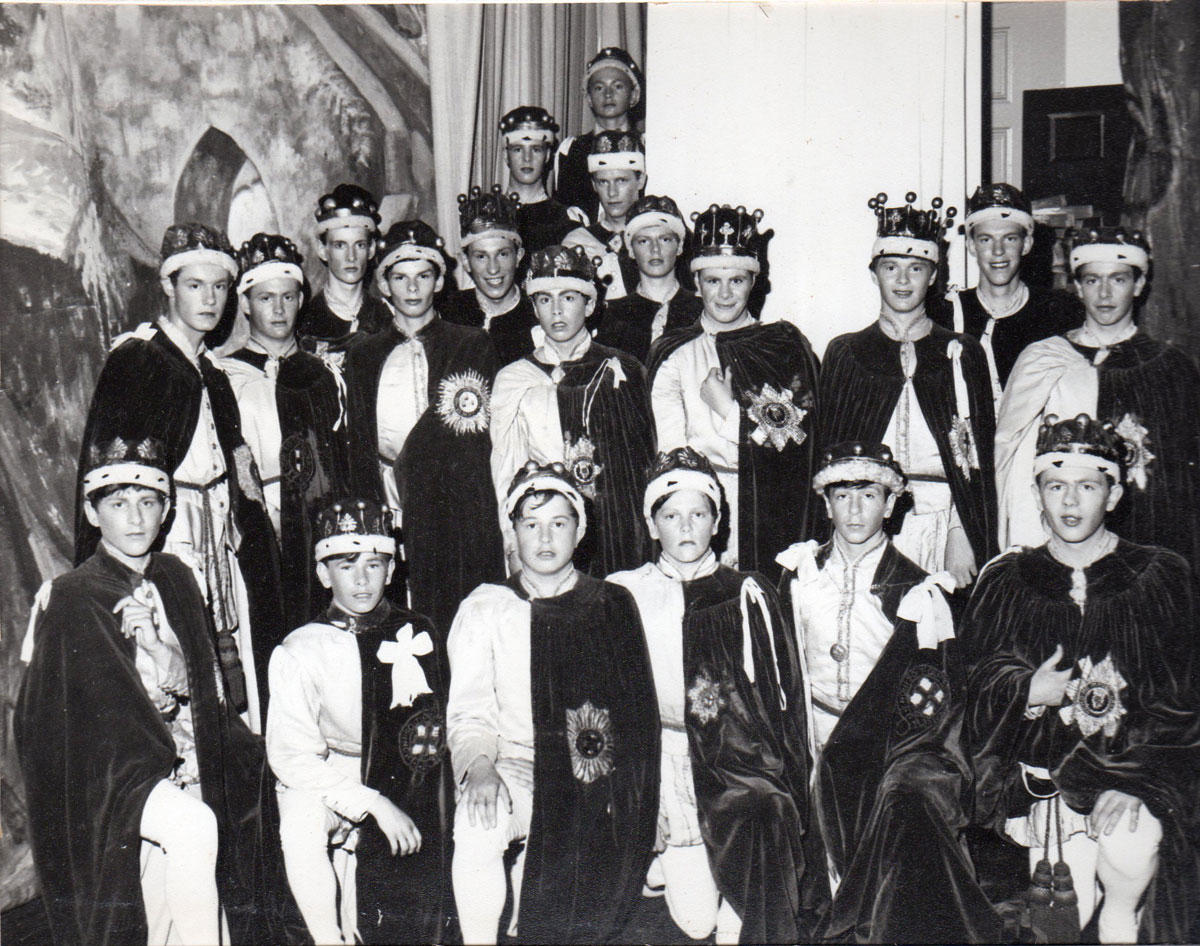 507
1966 - "IOLANTHE"

Chorus of Peers
Top Three: Jim Aitken, Tommy Mitchell, ?
Back Row: Billy Carey, Bobby Fowler, Jim Boyd
Middle Row: Joseph Gairns, ?Johnny Sharkey, Andrew McDonald, Tom Gray, Robert Wallace, Ian McQueen, Sandy Innes, Tommy Ward
Front Row: Robert Wright, Ronnie Bevan, Preston Glover, David Ruxton, Jim McPartlan, Arthur Park

1034
1966 - "IOLANTHE"
Back Row: Joseph Gairns, Bobby Fowler, Andrew McDonald
Middle Row: Anne King, Yvonne Gallagher, Lesley Hudson, John Hodgart, Robert Wallace, Mhairi Wilson
Front Row: Jack Rennie, The Hand of God (?Elizabeth Ross), Marjorie Fyfe, Evelyn Lang
Source: John Hodgart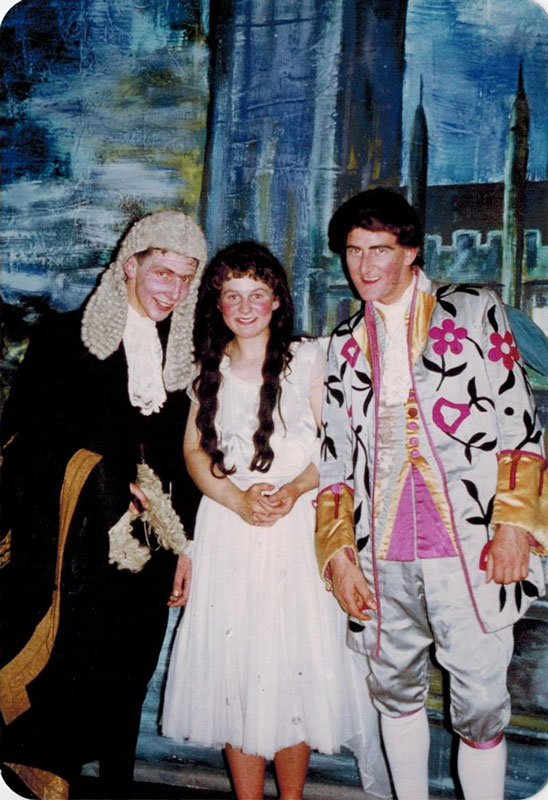 1035
1966 - "IOLANTHE"
John Hodgart (Lord Chancellor), Marlyn Hamilton (Iolanthe), Jack Rennie (Strephon)
Source: John Hodgart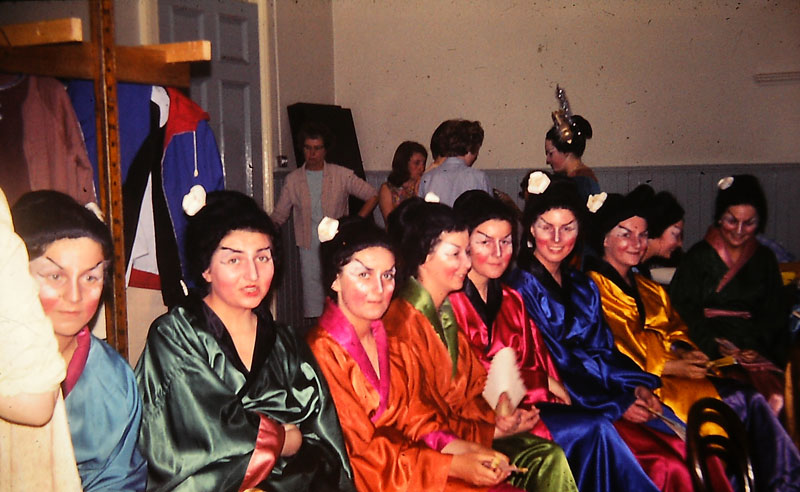 1036
1968 - "THE MIKADO"
Background: Helen Nisbet, ? , ? , ? , Elna McKelvie

Front: Marlyn Hamilton, Anne Crawford, Linda Ross, Helen McClymont, Anne Menzies, Carol Hudson,
Nessa Walker, ?Christine Campbell, Margo Oswald
Source: Lesley Wright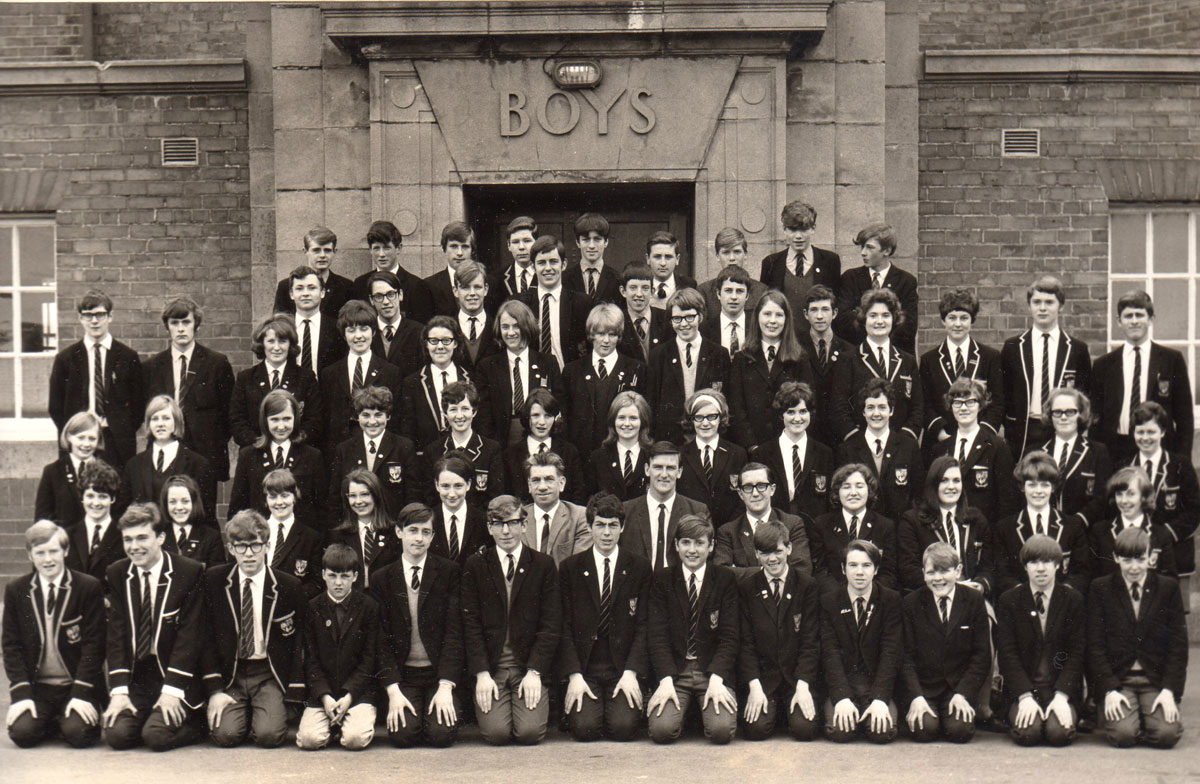 512

1968 - "THE MIKADO"

Cast
Back Row: 1 G Jamieson 2 Arthur Davidson 3 David Malloch 4 J Chesham 5 I Moody 6 J Donnan 7 W Kilpatrick 8 R Adam 9 John Gordon

Fifth Row: 1 Jim Aitken 2 R Cain 3 Harper Gilmour 4 Grant Parker 5 Norman Preston 6 Preston Glover 7 Stewart Gorman

Fourth Row: 1 Donald L. Carey 2 Douglas W. Martin 3 Moira McMaster 4 Janet Fulton 5 Anne Menzies 6 Linda McPherson
7 A Barr 8 A Stevenson 9 Carol Hudson 10 Hazel Martin 11 Marlyn Hamilton 12 Ian McQueen 13 Robert Wright

Third Row: 1 Rosalind Gilbert 2 Linda McTaggart 3 Janice Ramsay 4 Margo Oswald 5 Lesley Hudson 6 Beatrice Page
7 Linda Calder 8 N Walker 9 L Ross 10 Elsie McMillan 11 Agnes McDowall 12 Elma Dickson 13 Carol Smith

Second Row: 1 E Maxwell 2 M Blue 3 Gilda Johnstone 4 C Campbell 5 S McAusland 6 Bill Campbell 7 Jack Rennie 8 Hugh Hamilton
9 A Johnston 10 Elna McKelvie 11 Betty Miller 12 Evelyn Lang

Front Row: 1 Alister Campbell 2 Geoffrey Sambells 3 Andrew B. Hewitson 4 D Allen 5 R Irvine 6 Norman Hamilton 7 G Matthews
8 D Johnstone 9 W Walker 10 T McLaughlan 11 Ian Wright 12 J McLaughlan 13 R Paterson
Photos: Elma King