DALRY BURNS CLUB
121st Anniversary
MCMXLVI
25th January, 1946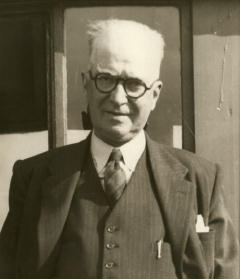 J S Howie
List of Toasts Proposed
| | |
| --- | --- |
| 1. Welcome to Members | The Chairman |
| 2. Welcome to Guests and Guests of Honour | The Chairman |
| Piping in of the Haggis | |
| 3. Address to the Haggis | The Chairman |
| Supper | |
| 4. The King, The Queen and other Members of the Royal Family | Mr John S Howie, Chairman |
| "God save the King" | Company |
| 5. Vote of thanks to the caterers | Mr William H G Wishart |
| 6. Presentation of very old copy of Burns poems | Sir Standish GG Craufurd Bart. |
| 7. Imperial Forces | Mr Thomas Loudon |
| "Scots wha hae" | Company |
| Recitation "Tam O'Shanter" | Mr Cameron Fullarton |
| Reply | Mr Douglas McLelland |
| Song "Mary Morrison" | Mr Norman G Clark |
| Reading | Mr Tom C Tait |
| 8. Deceased Members | Mr Alex R Cunningham |
| "Land o' the Leal" | Company |
| "Holy Willie's Prayer" | Mr James Barclay |
| 9. Memory of Burns | The Chairman |
| "There was a lad" | Company |
| Remarks | Mr J Stewart Adams |
| 10. Memory of Jean Armour | The Croupier |
| "O' a' the airts" | Company |
| Remarks | Rev Archd. H Minto |
| 11. Burns Clubs | Mr Archd. G Comrie |
| Recitation | Mr John Greenlees |
| Remarks | Mr W Barclay Brown |
| 12. Song Writers | Dr Alex Watt |
| Stories | Mr Welsh |
| 13. Guests and Young Members | Mr Andrew Henderson |
| Reply - Guests | Mr Eric de Banzie |
| Reply - Young Members | Dr William Cunningham |
| 14. The Chairman | The Croupier |
| 15. The Croupier | The Chairman |
| Mine Host | Mr Oliver B Aitken |
| "Auld Lang Syne" | Company |
Royal Hotel, Dalry
Members Present
John S Howie, Chairman (1935)
David Houston, Croupier (1935)
Alex R Cunningham (1906)
Neil H Cosh (1910)
Andrew Henderson (1915)
William Wilson (1916)
Dan Tait (1924)
Tom C Tait (1927)
William Dick (1928)
William Ramsay (1932)
Oliver B Aitken (1933)
James Barclay (1934)
W Barclay Brown (1935)
A Roderick Chisholm (1935)
Douglass G Gordon (1935)
Norman S Howie (1935)
A G Comrie (1936)
R Gray Kirkhope (1936)
Brig-Gen Sir S G G Craufurd Bart. (1937)
Thomas Loudon (1937)
Dr Alexander Watt (1938)
James Y Cleghorn (1938)
Douglas McLelland (1938)
Robert Dunlop (1938)
Alexander S Barr (1938)
David McGinnes (1938)
James Harkins (1938)
Thomas Steel (1938)
James Wilson (1938)
Thomas Campbell (1940)
W H G Wishart (1940)
Jack Fletcher (1941)
John Greenlees (1941)
John Thomson (1941)
Cameron Fullarton (1941)
Thomas G Wilson (1941)
Rev Archd. H Minto (1941)
John C W Wallace (1943)
Hugh Malloy (1943)
John H Wallace (1944)
James Rennie (1944)
Hugh Hart (1944)
David McColl (1944)
Archd. K Fraser (1944)
William Davis (1944)
James L Scott (1945)
Dr William Cunningham (1945)
J Crawford (1945)
T Nairn (1945)
Norman G Clark (1945)
William Davidson (1945)
Samuel Johnston (1945)
Guests: J Stewart Adams, Robert McFarlane, Robert D Campbell, Captain Tanner, Eric de Banzie, Thomas Dillon, Russell McCreadie, Joh Dickie, James Jackson, Arthur de Banzie, Robert Logan, A Yuille, J Allan, James Wilson, Mr welsh, Dr Aitken, Dr Nicolson.
52 Members 17 Guests
A formal Constitution was laid down in 1946 under the chairmanship of John S. Howie. Previously, there were only a few unwritten rules and these were interpreted in the broadest sense.