DALRY BURNS CLUB
41st Anniversary
MDCCCLXVI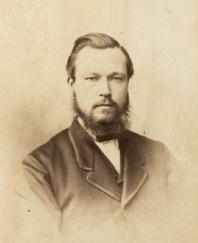 W Sloan
List of Toasts Proposed
I. The Chairman gave the following:-
1. The Queen
Song. "Rule Britannia" by Mr Cameron
2. Prince and Princess of Wales, and the Royal Family
Song. "The low backed Car" by Alexr. Hamilton
3. Army, Navy, and Volunteers
Song. "Corn Rigs" by James Longwill
Captain Paton replied
4. Both Houses of Parliament
Song. "Willie brewed a peck o' maut" by Mr Logan, Teacher, Dalry
Song. "The belle o' Dumbarton" by David Longwill
Song. "Loudon's bonnie woods and braes" by Mr Cameron
5. The Memory of Burns
Song. "Afton Water" by Mr Cameron
Song. "A Comic Medley" by Alexr. Hamilton
Song. "Green grow the rashes, O" by Mr Loudon
II. The Croupier gave the family of the Poet
Song. "O for the bloom of my own native Heather" by James Longwill
III. Dr Hamilton gave the English Poets, with the health of Mr Tennyson
Song. "Thunder Blunder" by James White
IV. James Stirrat gave the Memory of Deceased Members
Song. "Dermott McTwigg" by Hugh Morris
Song. "Happy we've been a' thegither" by John Young
V. Captain Paton gave the Memory of Deceased Novelists, with Sir Walter Scott
Song. "Paddy's Wedding" by Alexr. Hamilton
VI. William Logan, Teacher, Dalry gave the Historians with Taytler
Song. Ilka blade o' grass" by Mr Logan
VII. Alexander Comrie gave Dramatic Literature with Shakespeare
Recitation from Byron's Childe Harold's Pilgrimage, descriptive of the evening preceding the battle of Quatre Bras, by the Chairman
VIII. The Croupier gave the Biographers of Burns, with the health of Mr Gunnyan
Song. "Gae fetch to me a pint of wine" by William Hamilton
Mr Gunnyan replied
Song. "Tom Bowling" by Mr Cameron
Song. "The way to love like an Irishman" by James Longwill
Song. "A Comic Medley" by Alexr. Hamilton
Song. "Kissed yestreen" by Hugh Morris
IX. James Stirrat gave the Living Novelists with Sir E B Lytton
Song. "I'll tell thee the hour that I lo'e the best" by the Croupier
X. The Chairman gave the Health of the Young Members
Song. "The Lass o' Gowrie" by Allan Loudon
Alexr. Hamilton replied and sang "The Lively Hen"
XI. David Brown gave the Memory of the Scottish Poets, anterior to Burns
Song. "The Hunting morn" by the Croupier
Song. "Ye banks and braes o' bonnie Doon" by Mr Cameron
XII. John Young gave the health of the Living Song Writers with Ballantyne
Song. "Gipsy Jane", by James Stirrat
Song. "My ain my artless Mary" by Mr Cameron
XIII. Hugh Morris gave the Memory of Tannahill
Song. "When we were at the schule" by John Young
XIV. Mr Comrie proposed the Chairman's health
Song. "Tally ho the hounds" by Hugh Morris
Song. "Jessie the flower o' Dunblane", by Mr Cameron
XV. The Chairman proposed the Croupier's health
Song. "Mollie Bralligan" by Mr Comrie
XVI. The Chairman proposed the Toast of Mine Host
XVII. The Chairman then gave the parting Toast:
Happy to meet, sorry to part, and happy to meet again
after which the Club joined in singing "Auld Lang Syne", and then each took off his several way.
Members Present
Dr William Sloan, Chairman. Born at Prestwick, near Ayr, 12th August, 1836; M.D. Univ. Glasgow: 1860; L.T.P.S.G. 1860; Member of the General Council of the Glasgow University; mem. Med. Chor. Soc. Glasg. 1862; House-Surgeon in the Royal Infirmary of Glasgow 1859-60; for the last 5 years Surgeon for the Eglinton Iron Coy's Works at Dalry.
Dr Blair, Croupier
William Gunnyan. Born 1823, at Laurieston, Balmaghie, Kirkcudbrightshire, but has resided from infancy chiefly in Kilmarnock. Educated at the Universities of Glasgow and St. Andrews; was two years a public teacher in England, and since 1849, a public teacher in Kilmarnock. His pupils have distinguished themselves, especially in Classics, some of them having carried off the highest honours both in Glasgow, and Edinburgh and one is now distinguishing himself at Oxford. Has written biographies of Pope and Burns, for Nimmo's edition of the Poets and prepared Pope's Homer for publication in the same series. He has also been pretty extensively engaged in other literary works, some of which are presently passing through the press.
Hugh Morris, Dalry
William Logan, Teacher, Dalry
James Stirrat, Banker, Dalry
Captain Wm. Paton of Hillend
Dr. Hamilton, Dalry
James White, Kilwinning
David Longwill, Hawhill, Dalry
David Brown, Printer, Dalry
Allan Loudon, Dalry
James Longwill, Grocer, Dalry
Alexander Comrie (Interim Secretary)
John Young, Watchmaker and Jeweller, Dalry & Glasgow
Daniel Campbell, Mine Host
Daniel Cameron, Contractor, Dalry; has delighted the Club from time to time by his singing "beautiful exceedingly" our plaintive Scottish songs, such as "Gloomy winter's noo awa'", "Flow gently, sweet Afton" and "Loudon's bonnie Woods and Braes"
William Hamilton, Contractor, Dalry
William McCowan, Cashier, Blair Iron Works
Alexander Hamilton, Storekeeper to the Glengarnock Iron Co; at Mossend
20 Members